Encouraging women for more than 26 years!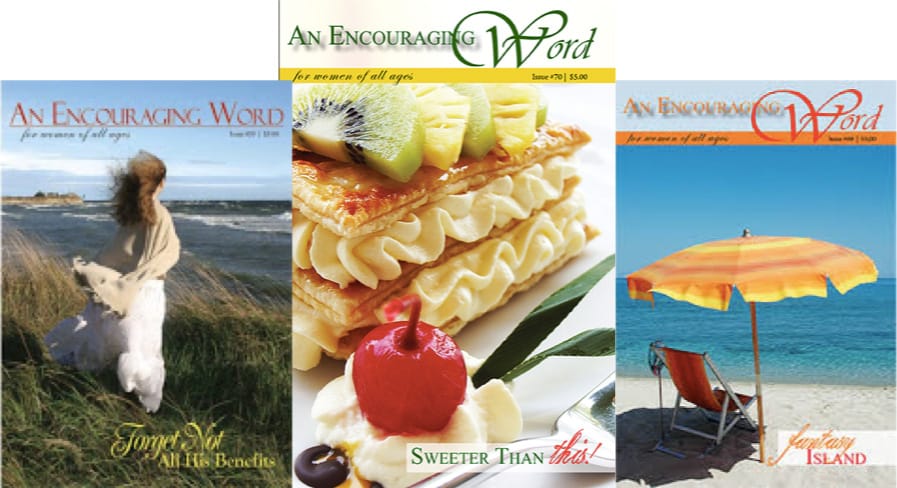 An Encouraging Word is a quarterly print publication designed for Christian women of all ages. Now in its 26th year of publication, An Encouraging Word continues to reach thousands of  women with encouragement, support, direction, and blessing for wives, mothers, grandmothers, sisters, daughters … and anyone in need of an encouraging word! 
Subscription to An Encouraging Word is $12.00 for a one-year quarterly subscription. And as always with your paid subscription you can give a gift subscription to a friend ABSOLUTELY FREE!
Many years ago, we were longing to develop a publication that spoke the heart of the LORD directly to the heart of women of all ages. As time passed, we found ourselves, more and more, talking together about this and feeling increasingly led of the LORD to develop a format for ministering practical and Biblical direction and encouragement to women from all walks of life. Slowly, but surely, a publication began to take form in our minds and we began to gather momentum towards it birth.
As we've traveled across the country with our inspirational Seminars, we've had the opportunity to meet so many of our readers face to face. We've been able to speak with you directly, and to hear your struggles, triumphs, concerns, desires, hopes, fears and joys with regards to your calling as wives, mothers, daughters and grandmothers. It is these issues, and more, that we address in each issue of An Encouraging Word.
Here at Wisdom's Gate Ministries, we thoroughly enjoy working to bring you An Encouraging Word. Our deepest heart's desire to see women of all ages flourish and grow in the grace of God, makes our labors on projects such as this, an absolute delight!
We hope that you will be blessed, and very much encouraged, by the fruit of our labors. We look forward to hearing from you. Much love to you, dear Sisters!
~ Skeet Savage